1.朱德庸( Taiwanese Cartoonist)
His works:
included "Everything is happening","Something about working","Bitter girls","Exact child"..etc.
I own some of these books.
The first book I bought is"Everything is happening".
It's about the little things happen around us. It is interesting but human just not observe about it.
You may find yourself cannot help to think about "what is life?" after watching his books.
Here is my favorite chapter from this book.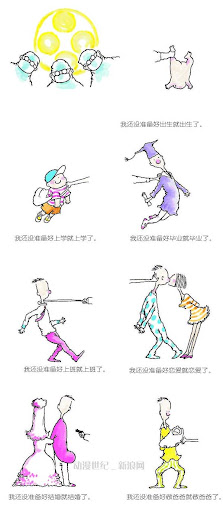 His drawing:
I like the colors he used and the clothes the character wear , it's soft and make people feel comfort.
===========================================================
2. Enzo mari

(writer, artist and designer of products, furniture and puzzle games)
E

nzo Mari (1932 -) is
an Italian designer .He is
the greatest designers of the 20th century, one of his thought and lively, and sometimes out of normal operation.


1957, he start to cooperate with
**

DANESE , their theories, only converted to real images. His ingenuity design can lead the wave of practical objects design.

His first piece is DANESE animal blocks series(
16 Animali
) , opened his long-term cooperation for over 40 years.

**Danese: Founded in 1957, mainly produces office supplies, daily necessities, and lamps

European well-known lighting brands
Artemide
, Italy famous furniture makers
Driade
, Berlin, Germany, porcelain brand
KPM
, Italian fashion brand
Zanotta furnitur
e, as well as many other international companies have commercialized his designs.

Now active in the arts, reviews, and product design.

His works:


Chairs:
Calendar
:
**Puzzle game:
(16 animals)
Enzo Mari cut out 16 animals in a rectangular wooden , abstract shapes, to become a one dismantling to open a different animal, like a hippopotamus, giraffes, snakes, camels and so on, as a means of design, another interesting puzzle game.
Cups:
Ashtray


There is a legend,Enzo Mari spent over a year to design this "ashtray" .
However, this design was not acceptable at that time and had been banded.
We have no chance to see such a magical design now.
Other furniture:
other design :
============================================
3.Yiying Lu (graphic designer)


Yiying Lu who most people have never probably heard of.

If you've ever used
Twitter,
you're probably familiar with Yiying Lu's work.


The design is now appearing on everything from T-Shirts to posters, key rings, tattoos and tails.

She has been interviewed recently and has said she has only made a modest amount of money from this now increasingly famous design.
illustration:
>She loved nature,so she common uses

animals

and

plants

in her design.
She always combine

Chinese paper-cutting technique(中國剪紙)

with simple styles.
Wine design:
Pictogram Design:

Package design:

What to know
more about her?
please visit: http://yiyinglu.com/